Care Homes
Alexandra
46 Alexandra Road, Hemel Hempstead, Hertfordshire, HP2 5BP
A calm, beautifully decorated and newly refurbished home that is centrally located and easily accessible for visitors.
Centrally located
Alexandra is centrally located within the town of Hemel Hempstead in Hertfordshire, and provides residential care, nursing care and care for people living with dementia. The home prides itself on its excellent eating experience and special dietary requirements can easily be accommodated.
Service facilities
Specialist dietary requirements met
Care services
Nursing Care

Respite Care

Dementia Care

Palliative Care
More info
Alexandra is situated in the heart of the town close to Hemel Hempstead Hospital and Gadebridge Park. The home is surrounded by a relaxing garden, featuring flower beds and a patio – a wonderful place to relax with friends and family. There are plenty of communal areas which provide space for group and one-to-one activities.
The home is run by a strong team whose priority is the resident's happiness and peace of mind. Families feel very at home when visiting and they enjoy the stability of the care team – some of which have worked there a number of years. There is a wonderful, calm atmosphere within the home.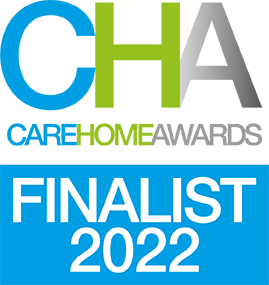 Activities and entertainment
Daily activities and entertainment are a core part of our quality care at Alexandra. We pride ourselves on offering a diverse, enriching range of weekly activities and entertainment allowing residents to continue to relish in their favourite hobbies and pastimes or to try out something new entirely.
We involve residents in the planning of our weekly activities timetables and offer one-to-one bespoke and tailored opportunities as requested. We're also passionate about keeping our homes and residents at the heart of the local community, working closely with community groups, schools and other community connections to keep residents involved in local activities.
Some of our regular activities include:
Manicures
Quizzes
Bingo
Musical movement
Games
Cinema afternoons
Singing
Concerts
Nail therapy
Dining is an essential part of the care package we provide to our residents, not only from a general health and wellbeing perspective, but we believe residents should be able to enjoy eating what they want, when they want.
Our meal experience is excellent, with our chef and catering team working hard to create meals that are both nutritious and tasty, using fresh seasonal ingredients. A varied meal choice is offered, and special dietary requirements are catered for.
Alexandra is located in the large town of Hemel Hempstead. With a bus station located close to the home, the neighbouring towns and villages are easily accessible. London is only a short train ride away and there are a selection of lovely parks close by with plenty of eating out areas available.
The health and wellness of our residents is very important and we work closely in partnership with local health and wellness professionals to ensure every resident is able to lead a full and enriched life. We welcome visiting professionals such as GPs, chiropodists, opticians and can arrange visits to other professionals if and when it may be required.
Our visiting pod in the garden, with its two entrance points, protective Perspex screens, intercom system and a nurse call button, allows us to safely facilitate visits from friends and relatives when our infection control procedures prevent us from welcoming visitors into the home itself.
Our accommodation
Arranged over three floors, our 75 bedrooms can be personalised to make them a real home-from-home. All our bedrooms are provided ready-furnished with the essentials for instant comfort, and we happily encourage our residents to bring their own treasured furnishings and belongings if they would like to do so.
Amongst our range of well-equipped areas and facilities, there's always space for quiet contemplation, or for enjoying the company of kindred spirits, and for relishing in interests and pursuits.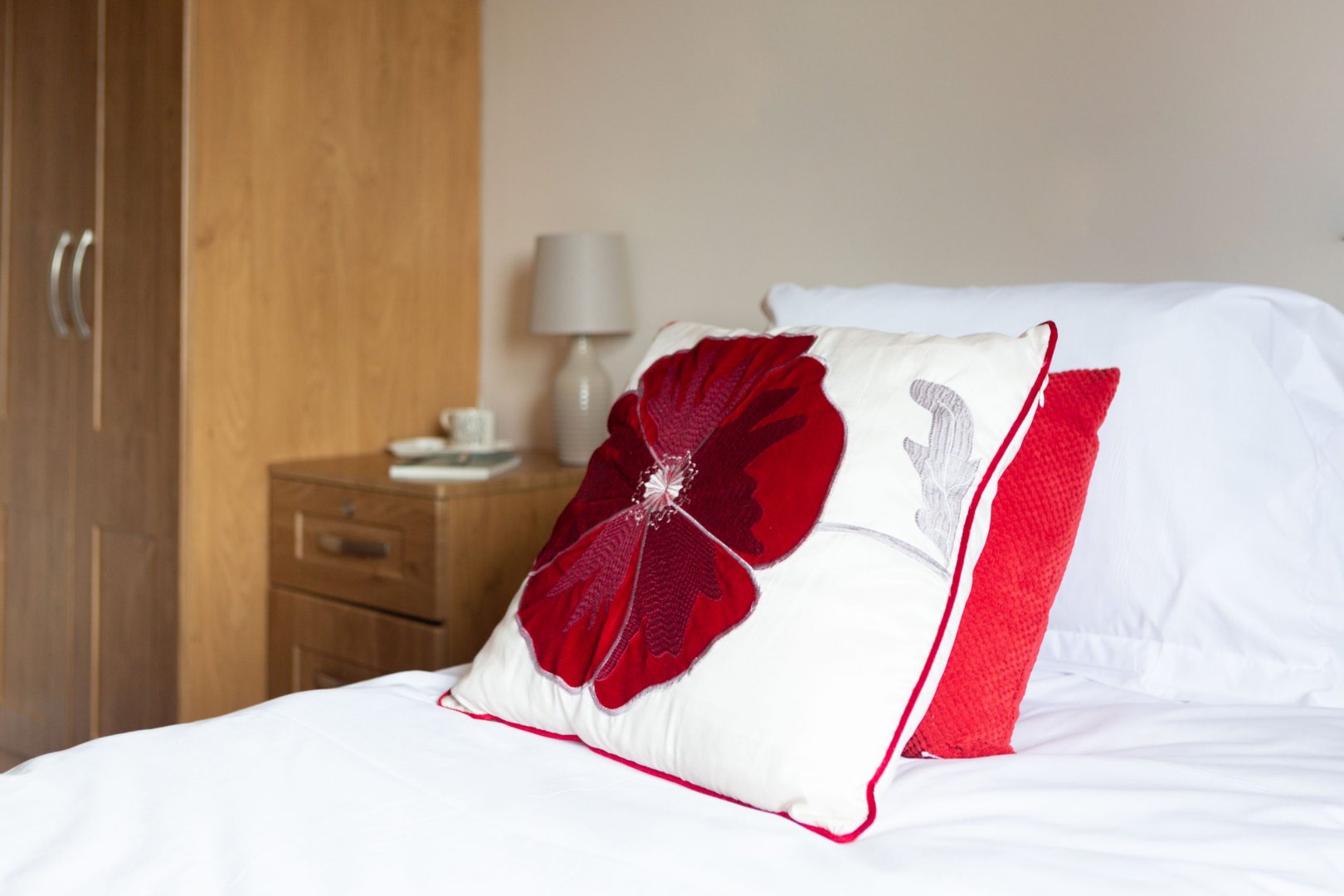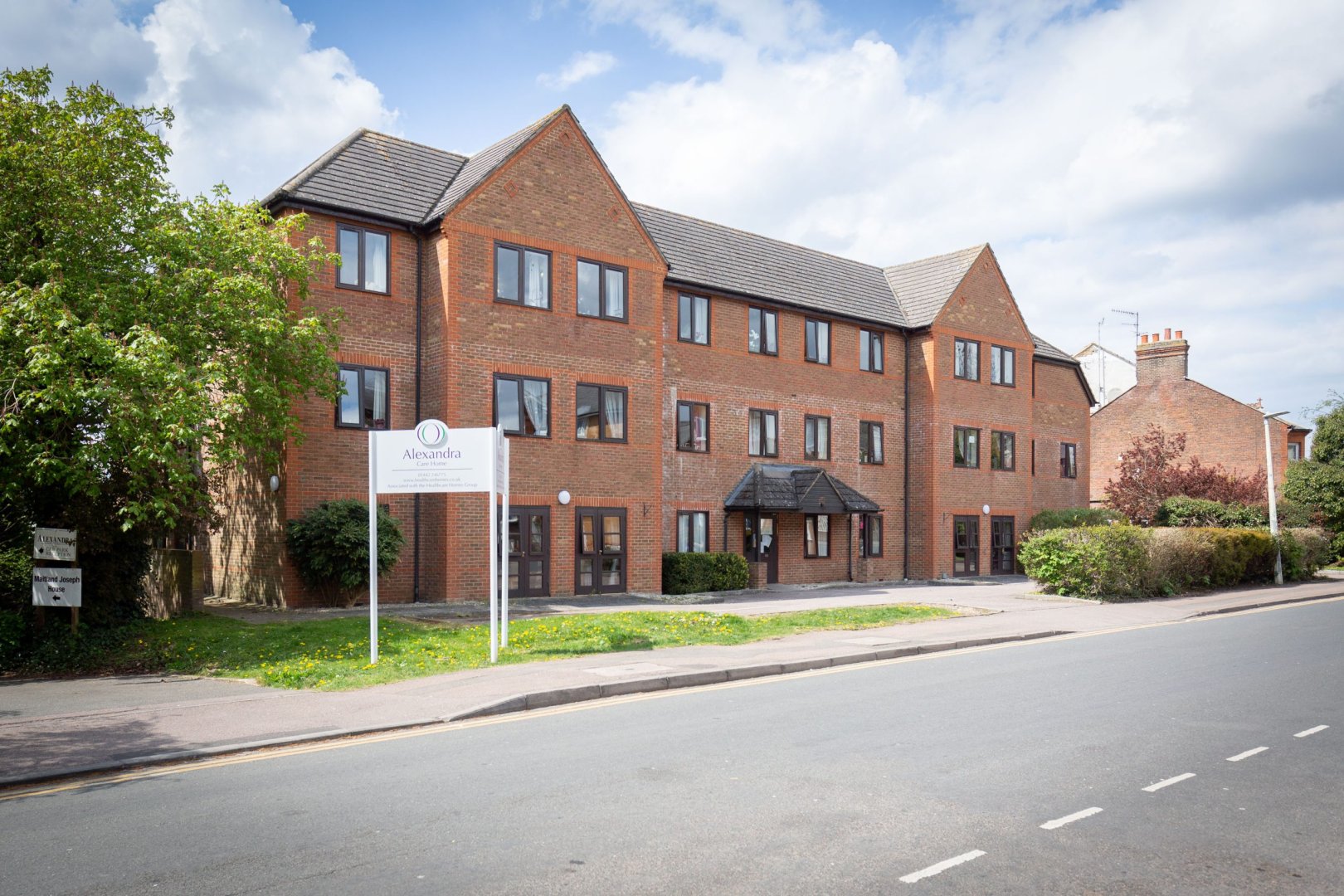 Meet our team at Alexandra
Advice & support
Advice
Latest news
News
Make a quick enquiry about care at Alexandra
Our friendly advisors are here to answer any questions you may have about residential care. Call us on 01206 646646 for a no obligation chat or use our simple enquiry form to request a call back from one of the team.
Nearby care services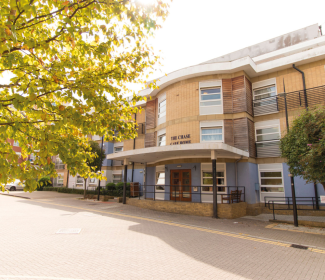 The Chase
Watford, Hertfordshire, WD18 7QR
Services
Residential Care
/
Nursing Care
/
Respite Care
/
Dementia Care
/
Palliative Care
/
Specialist Care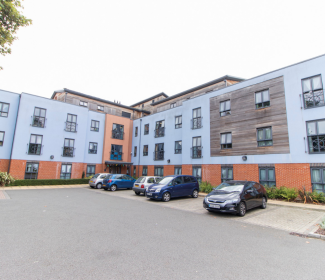 Kingsley Court
Hayes, Middlesex, UB4 8HZ
Services
Residential Care
/
Nursing Care
/
Respite Care
/
Palliative Care
/
Residential Dementia Care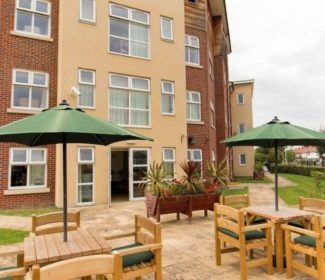 Sandown Park
Windsor, Berkshire, SL4 5JY
Services
Residential Care
/
Nursing Care
/
Respite Care
/
Dementia Care
/
Palliative Care
Terms and Conditions
If you will be funding your stay privately, please click here to view our Resident Contract of Admission for Self-Funders.
If a Local Authority may be funding your stay, please click here to view our Resident Terms and Conditions for a Local Authority Funded Stay.
Your Local Authority might locate/suggest a care home that is/your Local Authority believes is suitable to meet your care and support needs, that is of a lower cost than our required weekly fee. In this circumstance the Local Authority is unlikely to agree to fully fund your stay if you choose to select our care home instead of the less expensive establishment it has sourced for/suggested to you. In this event, private 'top-up' payments will be necessary in order to address the shortfall between our weekly fee and the weekly fee funding available from/offered by your Local Authority.
An additional top-up payment will almost certainly be required if you select, or we only have available, a non-standard room in the care home and your Local Authority is only prepared to pay for a standard room. If you select, or we only have available, a non-standard room in the care home, the additional cost for that non-standard room will have to be met by top-up payments.
Owing to the fact that your financial means will have been assessed by your Local Authority, it is very likely that the Local Authority will require private top-up payments to be made by a third party from their own funds. Although the Guidance to the Care Act 2014 states that a Local Authority ought itself collect top-up payments, some require us to collect such payments on their behalf. Should the Local Authority require us to collect top-up payments, we would issue the third party who is to fund the top-up with a contractual agreement for their review and signature.
If a Clinical Commissioning Group (CCG) may be funding your stay, please click here to view our Resident Terms and Conditions for a CCG Funded Stay.