Enquire Now
Care Homes
Handford House
27a Cumberland Street, Ipswich, Suffolk, IP1 3PA
Handford House provides care and support appropriate to the needs of each individual, in a friendly, warm and supportive atmosphere.
Warm, friendly and comfortable
Handford House provides a high standard of holistic nursing care provision to each individual living and staying at the home at all times. The home offers a warm, friendly, comfortable and safe environment and we promote and support personal choices and individual care at all times.
Service facilities
Specialist equipment available
More info
Handford House is situated in the town of Ipswich in Suffolk. It is a home designed to provide comfortable, safe and accessible accommodation. Residents and families are able to enjoy our gardens and two patio areas with raised flower beds and seating available and we have a large activities room with a cinema screen.
Dedicated lounges are available for residents to enjoy daily living activities, relax and unwind. We provide bespoke service to ensure the best quality of person-centred care is provided to all of our residents. We support social, psychological and spiritual needs alongside clinical and care support to enable individuals to lead the life they wish, where possible.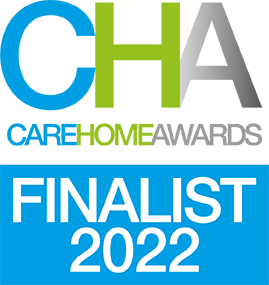 Activities and entertainment
We ensure that our daily activities provide stimulation and a sense of wellbeing. We believe that activities are a fundamental part of our residents' lives. Activities are always tailored and designed to benefit each individual. Our aim is to always help improve quality of life and create a stimulating, friendly environment where each person has the choice of opportunity to contribute.
We involve residents in the planning of our weekly activities timetables and offer one-to-one bespoke and tailored opportunities as requested. We're also passionate about keeping our homes and residents at the heart of the local community, working closely with community groups, schools and other community connections to keep residents involved in local activities.
Some of our regular activities include:
Mind body and soul sessions
Gardening club
Baking club
Book Club
Movement to music
Weekly minibus trips
Shopping trips
Dining is an essential part of the care package we provide to our residents, not only from a general health and wellbeing perspective, but we believe residents should be able to enjoy eating what they want, when they want.
Each floor has designated dining areas which are dressed and maintained to provide a pleasant and enjoyable eating experience. We look, listen and hear the views, opinions and wishes of all our residents, their families and friends in the home to enable them to contribute to ensuring meals we provide are to their expectations.
Dining is a restaurant style. Meal times are flexible and the menus offer choice and variety. Residents may request food not on the menu by discussion and arrangement with the chef. Our chef fully assesses all dietary needs, including likes and dislikes, allergies. special diets, through to preferred portion sizes and mealtimes.
Our catering team prides itself on producing food of the highest quality, using local suppliers to create fresh, homemade dishes each day.
Handford House is located very close to Ipswich town centre, allowing for residents and families to visit the town for a trip to the local shops or restaurants.
Ipswich is the oldest Anglo-Saxon town in England and steeped in history – you'd be hard pushed to move far in the town centre without seeing something worth stopping for. Visitors to the area can enjoy a walk around the historical town, a visit to Handford House or time spent enjoying the local shops and eateries.
The health and wellness of our residents is very important and we work closely in partnership with local health and wellness professionals to ensure every resident is able to lead a full and enriched life. We welcome visiting professionals such as GPs, chiropodists, opticians and can arrange visits to other professionals if and when it may be required.
Our accommodation
Arranged over two floors, our 52 bedrooms can be personalised to make them a real home-from-home, and residents are able to enjoy a selection of lounges, dining rooms and well-kept gardens for relaxing, socialising and entertaining.
All of our bedrooms are provided ready-furnished with the essentials for instant comfort, and we happily encourage our residents to bring their own treasured furnishings and belongings if they would like to do so.
Our maintenance manager works hard to ensure all residents feel at home; Andy works on a personal basis to re-decorate bedrooms for each new resident in any which way they may choose; to suit their tastes and wishes.
Amongst our range of well-equipped areas and facilities, there's always space for quiet contemplation, or for enjoying the company of kindred spirits, and for relishing in interests and pursuits.
Our in-house hairdressing and beauty salon provides the perfect sanctuary to keep our residents feeling their best, whilst our vast gardens, bordered by flower beds and mature trees, offer an al fresco setting to enjoy anything from regular exercise to taking tea.
Advice & support
Advice
Latest news
News
Make a quick enquiry about care at
Handford House
Our friendly advisors are here to answer any questions you may have about residential care. Call us on 01473 945370 for a no obligation chat or use our simple enquiry form to request a call back from one of the team.

Claire Pniok
Care Solutions Advisor

Kate Rhodes
Care Solutions Advisor
Nearby care services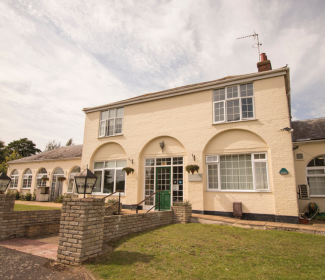 Barking Hall
Barking, Suffolk, IP6 8HJ
Services
Residential Care
/
Nursing Care
/
Respite Care
/
Palliative Care
/
Nursing Dementia Care
/
Specialist Care
Uvedale Hall
Needham Market, Suffolk, IP6 8AX
Services
Residential Care
/
Respite Care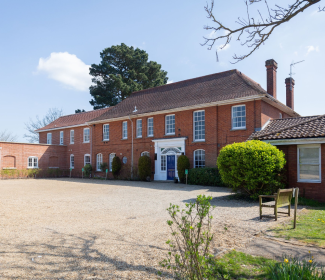 Haughgate House
Woodbridge, Suffolk, IP12 1JG
Services
Residential Care
/
Nursing Care
/
Respite Care
/
Palliative Care
/
Specialist Care